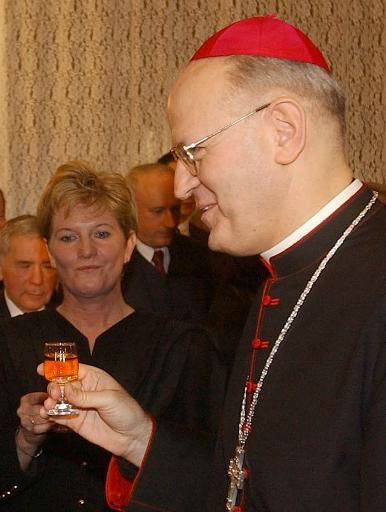 ---
Cardinal Péter Erdo, Archbishop of Esztergom-Budapest and Primate of Hungary, was born on 25 June 1952 in Budapest, Hungary. He was ordained a priest on 18 June 1975 and holds doctorates in theology and canon law.
Cardinal Erdo was professor of theology in the Faculty of Theology of the Archdiocese of Esztergom and at the Gregorian Pontifical University. He was rector of Rome's Hungarian Pontifical Institute. He served as professor, department head, dean and rector of the Theological Academy "Péter Pázmány", and was Principal of the Postgraduate Institute of Canon Law. He also taught at the Pontifical Catholic University Argentina (Buenos Aires) and at the Pontifical Lateran University.
On 5 November 1999 was nominated titular Bishop of Puppi and Auxiliary of Székesfehérvár, receiving episcopal ordination on 6 January 2000. He has been president of the Commission of Ecclesiastical Law of the Bishops' Conference of Hungary.
On 7 December 2002 Cardinal Erdo was nominated Archbishop of Esztergom-Budapest and Primate of Hungary. In September 2005 elected President of the Hungarian Bishops' Conference.
In October 2006 elected President of the Council of European Bishops' Conferences (CCEE); in October 2011 confirmed for another quienquennium.
He is the author of many written works and founder of various journals.
Created and proclaimed Cardinal by the Bl. John Paul II in the consistory of 21 October 2003, of the Title of S. Balbina (St. Balbina). (AP Photo/ LAJOS SOOS)