Los Angeles News

Pico Rivera deputy shooting leaves man injured
Sunday, August 04, 2013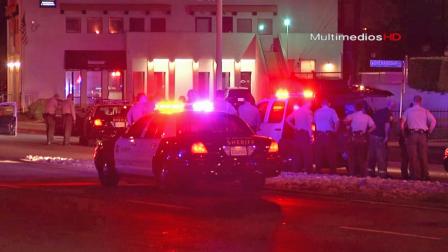 PICO RIVERA, Calif. (KABC) -- An investigation is underway after a man was injured in a deputy-involved shooting in Pico Rivera early Sunday morning.
The shooting happened at Rosemead Boulevard and Shenandoah Avenue around 12:30 a.m.
According to the Los Angeles County Sheriff's Department, Pico Rivera deputies witnessed a man spray-painting a wall. He then took off on foot and got into a vehicle with three other men.
Despite orders to stop, the suspects drove directly toward a deputy, the department said. The deputy fired at the car, hitting one of the men.
The man was transported to a local hospital in critical condition. Three other suspects were taken into custody.
No deputies were injured in the incident.
(Copyright ©2014 KABC-TV/DT. All Rights Reserved.)
shooting
,
deputy-involved shooting
,
los angeles county sheriff's department
,
pico rivera
,
los angeles news

Copyright ©2014 ABC Inc., KABC-TV/DT Los Angeles, CA. All Rights Reserved.